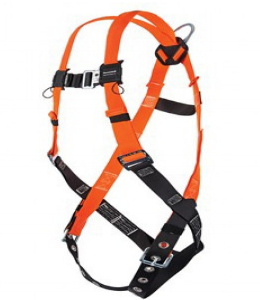 Titan II Non-Stretch Harnesses
Easier vertical adjustability that stays in place, slip resistant back D-ring pad and forward positioned side D-rings, keeping your tool bags in the right place

More comfort and better fit with lighter, strategically-placed padding that provides optimal airflow

Increased worksite safety with Hi-Viz color webbing and ANSI Z359.11 compliance

Quick availability with in-stock items
Rated to 400 lbs. capacity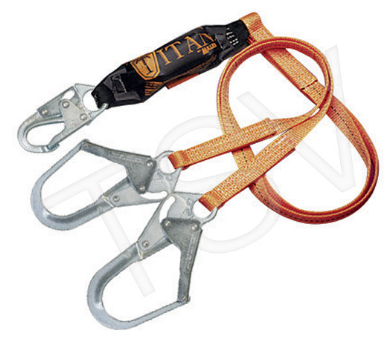 Titan™ Shock-Absorbing Lanyards
Made of lightweight, durable polyester webbing
Pack-type style includes the shock absorber pack that expands to reduce fall forces while a back-up safety strap deploys
Locking snap hook harness connection
Certified to CSA standard Z259.11, Class E4
Type: Shock-absorbing
CSA Class: E4
No. of Legs: 2
Harness Connection: Snap Hook
Anchorage Connection: Rebar Hook
Material: Polyester
Shock Absorber Type: Pack
Length: 6'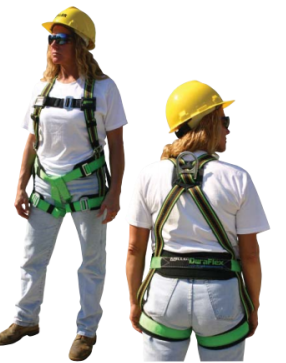 Ms. Miller Harness
The E570 Ms. Miller Harness is the only full-body harness on
the market specifically designed for the female worker. The
special design keeps shoulder straps at the side and away
from the chest, offers better hip support, and increases
comfort.
Certification
Meets OSHA 1910.66, 1926.104, 1926.502, ANSI A10.32,
Z359.1 and CSA Z259.10-06 specifications.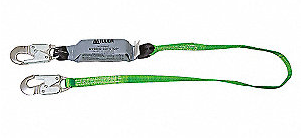 Hybrid Energy-Absorbing Lanyards
Hybrid E4/E6 SofStop lanyard, 1'' web, snap hook at ends x 4 ft
Now, for the first time to market, Honeywell has designed one lanyard that can be used by workers across weight classes, while still being CSA compliant. Honeywell Hybrid Energy-Absorbing Lanyards make choosing the right equipment a little easier, while reducing error and increasing safety!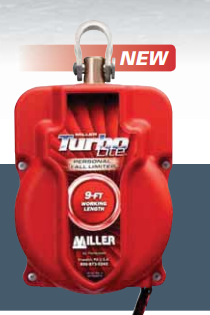 Miller TurboLite Personal Fall Limiters
Cost-effective, compact and lightweight, Miller TurboLite Personal Fall Limiters make the need for shock-absorbing lanyards obsolete.
Reduces fall clearance requirements
Available in 6-ft and 9-ft lengths to meet the needs of a wide variety of applications
Extremely compact and lightweight, comparable to a shock-absorbing lanyard
Attaches directly to the back D-ring of a harness for increased mobility
High-impact resistant nylon housing and abrasion-resistant webbing provide long service life
Integral swivel prevents lifeline from twisting
Rated for up to a 400 lb. (181.4 kg) worker
Twin models available for 100% tie-off
Meets requirements of OSHA, ANSI Z359.14 Class A & B and CSA Z259.2.2.
Miller 6-foot TurboLite PFL
Ideal replacement for a 6-ft. shock-absorbing laynard
Ultra compact and lightweight
Miller 9-foot TurboLite PFL
Provides 9-ft. of working length, an ideal solution for scaffolding and order picker applications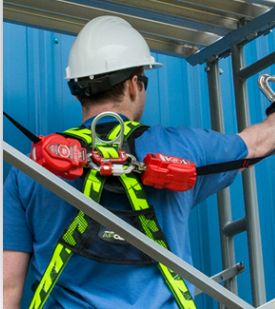 Miller Twin Turbo G2 Connector Systems
Better alternative to double-leg lanyards – Reduces fall clearance requirements for use in more applications.
PFLs swivel independently – Provides ultimate worker mobility and prevents webbing from twisting and binding in the unit.
Lightest-weight Twin Connector on the market – Increases productivity by reducing worker fatigue.
Superior durability – Corrosion resistant aluminum connector teamed with high-impact nylon result in a longer product life.
Superior safety – Webbing Retainer Clip rotates freely to prevent unintentional opening of carabiner gate during a fall increases worker safety.
D-Pad Clip – Maintains harness adjustment while working by keeping the harness webbing and D-Pad in place.
Twin Turbo G2 Connector meets all applicable standards including OSHA, ANSI and CSA.
Please call for more information also available
Miller TurboLite Edge Personal Fall Limiter
When The Job Takes You to the Edge: Depend on Miller
See below please call for More information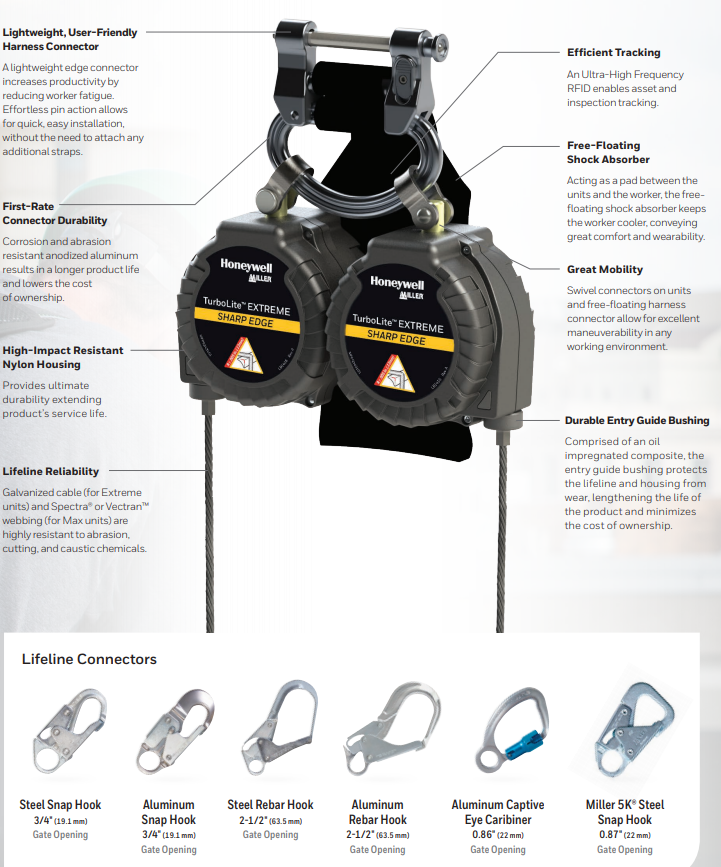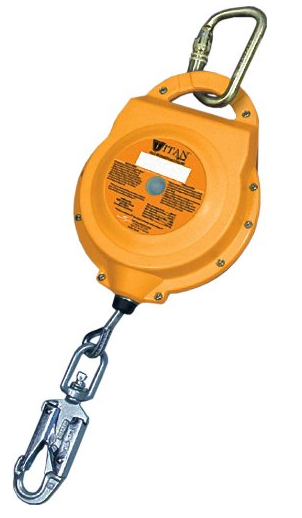 Titan Self-Retracting Lifelines
Titan Self-Retracting Lifelines are ideal for a full-range of applications including construction and general maintence
Affordably priced Quick-activating braking mechanism Variety of working lengths
Quick-activating stainless steel braking mechanism arrests free falls
Snap hook with swivel, carabiner included
TR20/20FT Titan Cable Self-Retracting Lifeline 20-ft. Galvanized Wire Rope [3/16"]; Composite housing.
TR30/30FT Titan Cable Self-Retracting Lifeline 30-ft. Galvanized Wire Rope [3/16"]; Composite housing.
TR50/50FT Titan Cable Self-Retracting Lifeline 50-ft. Galvanized Wire Rope [3/16"]; Composite housing.
TR65/65FT Titan Cable Self-Retracting Lifeline 65-ft. Galvanized Wire Rope [3/16"]; Composite housing.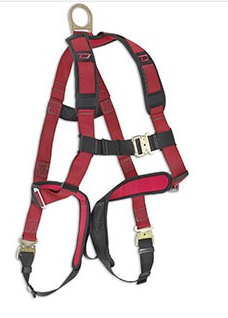 Dyna-Pro Universal & Professional Harnesses
he "DYNA-PRO" line of harnesses were designed for the ultimate in ease of harness donning, with light
weight breathable padding only where it is required. The "DYNA-PRO" has minimal body contact for a
superior fit and comfort. Most presently available padded harnesses have padding in areas that do not add
to the users comfort, in fact they actually create unnecessary hot zones. When wearing this harness the
user forgets that they are wearing it even if they wear it all day long. The "DYNA-PRO" harness is the lightest
in its category. It offers all the necessary cushion padding needed for maximum comfort and in no case
does the padding interfere with the mobility necessary to do the job.
The harnesses also come with bayonet style connectors which make it easy to put on and off. Available in
sizes Regular and Extra Large. These harnesses meet and exceed ANSI and OSHA regulations and is
CSA Certified.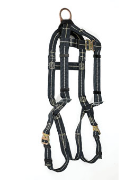 WELDERS HARNESS KEVLAR/NOMEX WEBBING 1D
Dyna-IFR Vest Style Welders Harness (Regular Large, X-Large)

Cable Slings with Hook & Ring
Cable sling with hook and Ring - stock lengths are 4 ft and 6 ft other lengths are available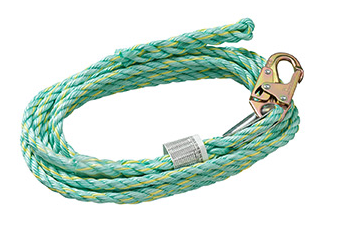 Vertical Life Line
Snap hook (anchor end), back splice (trailing end)
The PeakWorks VERTICAL LIFELINES are made from 5/8" Polysteel Rope or Kenrmantle Rope. Polysteel rope is an
extruded copolymer fiber that yields a high strength, light weight rope with good resistance to acids and alkalis.
Kernmantle rope is a rope manufactured by braiding a cover (mantle) over a core (kern) that is designed to optimize strength,
durability, and flexibility. Lifelines are available with a snap hook or quick lock carabiner.
The PeakWorks Vertical Lifelines are offered in a variety of standard lengths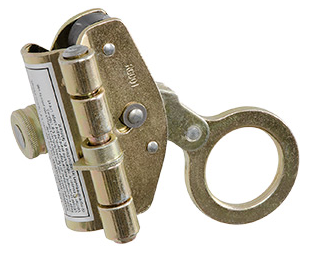 Rope Grab
PeakWorks RG-11010 Rope Grab is designed for use with 5/8" (16 mm) rope. There is a Panic Grab feature built into the
device to ensure the arrest of a fall even if the user pushes the cam upward in a panic situation. Each part is thoroughly
tested during the product development stage and is batch tested to confirm conformance.
Connecting Component: 1 ¼" Ring
Material: Steel with a corrosion resistant platting
Minimum Breaking Strength: 5,000 lbs (22.2 kN)
Number of Workers: 1
Weight: 2.0 lbs (.90 kg)
Capacity: 136 kg (30 lbs) for one worker (combined weight of person, tools, clothing, etc)
Operating Temperature: -35º C to +35º C
STANDARDS
Compliance: Certified to CSA Z259.2.1-98(R2004) & ANSI Z359.1-2007

SRL- 20ft LEADING EDGE
Self-Retracting Lifelines (SRL's) are connectors that extend and retract as the worker moves around.
SRL's use a locking mechanism similar to that of a seatbelt.
Under normal use, the worker can move about while the SRL keeps them connected between the harness and anchor point.
If the worker slips or falls, the mechanism locks the SRL, preventing further extension of the lifeline.
SRL's offer the worker the greatest amount of mobility and work distance from the anchor point.
SRL's offer shorter stopping distances that traditional lanyards.
Leading Edge (LE) self-retracting lifelines are designed to protect the worker when operating near an edge and where a fall hazard exists that could cause the lifeline to come into contact with the edge
Leading Edge SRL's provide additional protection against sharp or abrasive surfaces found on many construction sites
A Leading Edge SRL can be mounted below a worker's fall arrest D-Ring (please refer to instruction manual for details)
Certified to CSA Z259.2.2-98 (for non-Leading Edge applications) and ANSI Z359.14 (for Leading Edge applications)
No external shock absorber – We are the only manufacturer that offers LE certified units which can be used without external shock absorbers
Lightweight units can be mounted on a worker's harness for better mobility and range of motion
All LE products are clearly marked to ensure the correct SRL is used for Leading Edge applications
Confined Space Kit: Tripod, 3-Way 60' (18 m) SRL, 65' (20 m) Man Winch and Bag
Lightweight and portable, so you can take it with you from job to job, saving you time and money
Offers easy single-person setup
The PeakWorks series aluminum tripod features adjustable/locking legs, so you can find just the right fit for your applications
Non-slip rubber safety feet on all sides prevent the unit from moving
Features a safety chain and 2 attachment points on the steel head, for extra safety and security
Available in 7' (2 m)
SRL mounting fixture installed prior to shipping
V84537065 (MW-65G) winch using back plate and 4 bolts (carabiner & split pulley included)
Meets or exceeds CSA and OSHA requirements for confined space rescue
4:1 mechanical advantage makes rescue quick and easy, with an average retrieval speed of 25' (7.6 m) per minute
Corrosion-resistant stainless steel and aluminum components
V845534060 (SRL-53303-60) available with galvanized wire rope, 60' (18 m) in length
V84537065 (MW-65G) man/material winch with galvanized wire rope, 65' (19.8 m) in length
Meets OSHA, CE, ANSI A10.14, and CSA Z359.1 and Z259.2.2 Type 3 standards
SRL & winch capacity: 151 kg (310 lb) combined weight of person, tools, clothing, etc.
Operating Temperature: -35º C to +35º C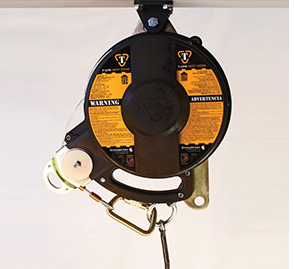 Hybrid Vertical Horizontal Retractable Lifeline - 40' (12 m)
The most versatile fall protection system available, the T-Line Safety System is a totally new approach to fall protection that can be used in most applications, including many that either aren't supported by existing systems or require expensive specially engineered systems
Facilitates both horizontal and vertical freedom for the user. The system is self-retracting and self-tensioning
Functions as both a self-retracting lifeline and a horizontal lifeline
Works in both vertical and horizontal applications
Easy to install
Prevents the pendulum effect in the event of a fall
Shorter fall arrest distances over large spans than most horizontal lifelines
Each end can be mounted at different heights
Integrated rescue winch
Generates much lower forces on the anchors
Can be easily serviced
Also Available in 80ft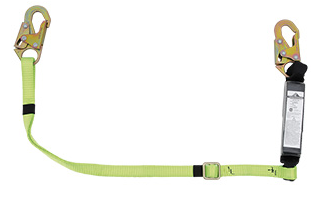 E4 Shock Absorbing Lanyard - SP - Single Leg - Snap Hooks - 6' (1.8 m) - Adjustable
Lanyards are engineered products, and the critical connection component between the body harness and the anchor. They are sometimes referred to as connectors.
PeakWorks lanyards are designed and tested to comply to strict CSA and ANSI standards.
There is a wide variety of lanyards to suit a wide range of applications.
There are two common types of lanyards: Fall Restraint and Fall Arrest.
Lanyards for fall arrest applications are designed using two types of shock absorbing technology: POY (Partially Oriented Yarn) and SP (Shock Pack).
The shock absorbing action of these lanyards limits and reduces the force of a fall on the worker, significantly reducing injury to the body.
SP (Shock Pack) lanyards are comprised of "tear webbing" which is woven in a manner that allows the webbing to tear when it has a load applied to it. This tearing absorbs a significant amount of downward force under load, reducing injury. This tear webbing is folded and shrink-wrapped into a compact 1 x 2 x 6" (2.5 x 5 x 15 cm) pack that is sewn into the lanyard next to the body connector.
Certified to CSA Z259.11-05 standards
Made with a superior grade, heavy-duty 1-3/4" (45 mm) or 1" (25 mm) polyester webbing for maximum strength or 1/4" (6 mm) galvanized plastic coated cable, with tear webbing shock absorber
A tear-away absorber limits the arrest force to a maximum of 900 lb (4 kN) for the E4 category or 1,300 lb (6 kN) for the E6 category
PeakWorks SP lanyards are available in two categories: E4 (worker weight of 100 to 254 lb [45 to 115 kg]) and E6 (worker weight of 200 to 386 lb [90 to 175 kg])